Announcing Zoom Player v18 beta 8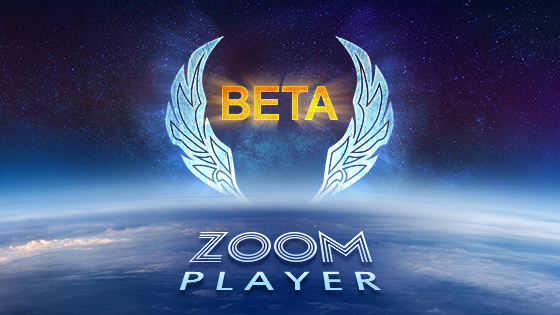 What's new in this beta:

  * New Wakeup on LAN feature (Adv. Options / System) that allows you to
    turn on PCs. This feature is extremely useful when using NAS (Network
    Attached Storage) devices as your source for the media and you only
    want to turn them on when using Zoom Player.

    With this new feature, you can specify multiple MAC addresses to wake
    several PCs and you can trigger the wake-up action with a choice of
    conditions such as:
    
    1. When starting Zoom Player
    2. When opening the Media Library
    3. When opening the File Navigator

    If there are other use-cases where you would want Zoom Player to
    wake-up remote PCs, let me know.

  * New button on the IPTV Interface to toggle 50% window transparency.

  * New IPTV setting to merge duplicate channels. This can be useful
    if you're using multiple EPG files/links that contain EPG info
    on the same channel.

  * New IPTV setting (enabled by default) to keep the IPTV interface
    window on top of other windows and applications while Zoom Player
    is in fullscreen mode.
    
  * New IPTV setting to control the screen ratio between the stream list
    and the EPG. The default value is 1:1.5 (Making the EPG 150% wider
    than the stream list).

  * If an IPTV channel doesn't have a logo in the M3U playlist file,
    Zoom Player now tries to use an icon from the EPG XML file and
    caches the logo so it shows even if you keep the EPG panel closed.

  + To prevent distracting confirmation messages popping up, the IPTV
    interface no longer prompts you to update the list once an IPTV M3U
    playlist or XML EPG finished downloading, instead it will enable a
    refresh button which you can click at your leisure.

  + Enhanced IPTV stream list keyboard navigation.

  + When opening the IPTV interface with the EPG hidden, the EPG data will
    not load until the EPG section is opened which results in the IPTV
    interface becoming accessible faster.

  + When loading IPTV playlists, if a channel does not contain ID
    information, Zoom Player will try to match EPG entries based on
    the channel name instead.

  + IPTV channel logos should appear faster if there are broken links in
    the M3U playlist file.

  + Closing and opening the IPTV interface window now restores the previously
    opened group layout.

  - Resizing the IPTV interface window could leave trails on screen until
    the stream list was scrolled.

  - Right clicking a history entry and selecting "copy" in the playback
    history interface returned a jumble result when copying links.

  - The scroll bar on the description section of the IPTV program information
    dialog accessible by right-clicking an EPG program did not show/hide
    properly based on the window size.


Download