The required ATI notice applies to setup:
YOU MUST HAVE A VALID ATI DVD PLAYER INSTALL CD (Any version), OR YOU CANNOT INSTALL THE DOWNLOADABLE 4.1 UPDATE.

Predictably, my own ATI install CD vanished, forcing me to find a workaround to complete the review. However, if you want the ATI 4.1 player, Get yourself an ATI install CD! The workaround was buggy at best, and a TON of work. Insert your older ATI DVD player install CD, and type in the serial number when prompted; or the 4.1 install cannot be completed.

That said, install was typical ATI: fairly clean and simple, A TON of files copied, and more registry entries than can be counted without an abacus! I have eMails from many users who had problems getting the 4.1 player to install and run. It requires Direct-X v8, and your choice of ATI drivers may be a major issue. The Fury 6263 drivers, and the Radeon 7075 drivers both allowed install with no issues on the test system.

New for ATI in the setup department is some real control for the user! Older ATI players were Spartan to say the least. DVD Genie has been almost a necessity since the 1st ATI/Cinemaster players were released, because so many controls were hidden in the player setup. They cannot be adjusted using the player controls, but DVD GENIE makes it possible.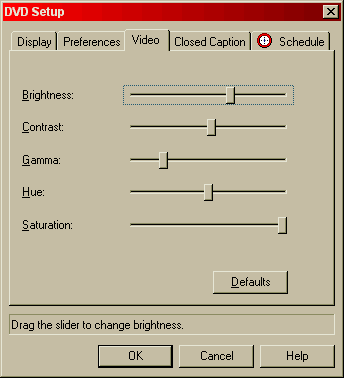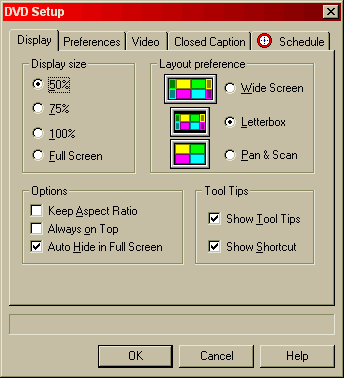 The new time sliders are a welcome addition. The Gamma, Brightness, and Contrast sliders all have instant effect that works smoothly with good range. Hue control is a bit touchy, and takes careful adjustment to dial in properly. The Color Saturation slider is disappointing. Its range is limited, and I found on most titles even setting it to MAX still left me wanting a bit more color. The MIN setting did not go very far below default level either, so adjusting to a softer more subtle color level is limited. I generally left the saturation slider at MAX, except in a few titles.