Upon removing all other DVD players, and a clean re-install of CineMaster 2000, I was able to run setup. A few Audio and Video preferences, basic settings for sizes and captions, and the usual parental box, are all that is available in setup. As with previous CineMasters, it doesn't ask for many choices from you, and doesn't offer many to you. I selected hardware optimization, and 4 speaker output (Another new option to CineMaster). DVD Genie is also very helpful to see hidden settings and further tweak performance.

One further thing to note is, unless a DVD disc is inserted and loaded, you will not even have access to the DVD decoding settings. This is somewhat confusing for the average user.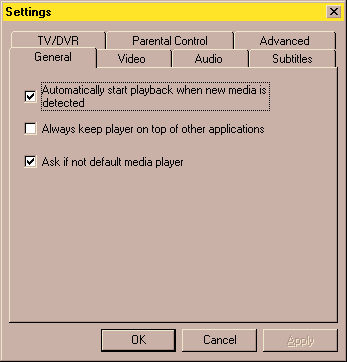 Overall, DirectShow issues aside, I found the setup to be uninspiring. DVD Genie is a must-have with any CineMaster player, however it is needed because the setup is poorly written. The setup controls of CineMaster 2000 are poorly laid out, and inadequately explained. DVD Vets will probably figure it out, but newbies may find it vexing. The install/setup doesn't have any diagnostics to identify or repair problems. This is something PowerDVD has spoiled users with, hopefully all other players will jump aboard with such features.

I'd have to say Ravisent has some issues yet to resolve. It did install, and it worked OK and played DVDs fine (For awhile anyway!). Any player that can't co-exist with other players bugs me. Worse, Older CineMaster players co-existed FINE, so they lost something good. Hopefully a future revision can correct this, as well as open ALL tweaking features so we don't have to hack the registry to get maximum performance.